Bar Exam Tutoring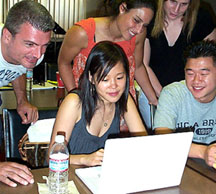 Bar prep tutoring
Registration
Bar prep tutoring
Bar exam prep tutoring: personal bar review
BarRev, a service of LEX Law Prep, assists students in preparing for the bar exam through both one-on-one, individualized tutoring sessions and a bar exam skills bootcamp. Tutoring sessions are available either in-person or online, according to each student's preference. We offer discounted rates to individuals who are repeating the California Bar Exam.
Bar tutors are available for all areas of the bar exam, including:
essay portion
multiple-choice (MBE) portion
performance test portion
BarRev bar prep tutors are available for in-person bar exam tutoring throughout Southern California and for online bar exam tutoring worldwide. A BarRev instructor is also available to come to speak to your pre-law society or Phi Alpha Delta pre-law fraternity meeting about preparing for law school. LEX instructors are also available to meet with your law school student body or incoming law firm associates regarding preparing for the California Bar Exam, Baby Bar, or MPRE.
Challenges of the bar prep process
The bar exam experience—the preparation process as well as the exam itself—is an intense and memorable time in one's life. Academically, the test presents special challenges, including subjects not taken in law school, time pressure, and new forms of testing. But aside from the academic issues, the bar exam also presents deeper personal challenges. Many examinees have never taken an exam that lasted more than one day or that served as a gateway to an entire profession. There's a lot of pressure—external as well as self-imposed—to succeed, and this very pressure can negatively impact performance.
Current and former students represent students or alumni from UCLA, USC, UCSB, UCI, Southwestern, Loyola, Pepperdine, Chapman, and other California schools as well as schools from other parts of the country, such as Harvard, Yale, Columbia, UVA, Emory, and Vanderbilt.
Bar review focuses on skills
Preparation, not just information, is the key to the test. Those who prepare themselves mentally, physically, and logistically for the test—and even for the preparation process itself—have a much greater likelihood of performing at their best when the pressure is on. Students must be ready not only to recall legal rules but to communicate articulately, even in the face of the inevitable uncertainty that arises when facing a new fact pattern on exam day.
That's why the LEX BARREV approach helps students prepare on many different levels, developing not only the academic knowledge—memorization of the law may be the easier part—but also numerous skills that are integral to success, namely:
Writing—The written portions of the exam make up most of one's score
Reading comprehension—One must learn to glean the key facts from each stimulus
Test-taking—Effective time investment often separates those who pass from those who don't
Reasoning—Logic skills are crucial to good written arguments and effective MBE performance